On the mimosa road between Bormes-les-mimosas and Nice
This treasure trove for the eyes stretches for around a hundred kilometres. In Bormes, Sainte Maxime, Saint-Raphël, Mandelieu, Tanneron and near Nice. From January to March, the mimosa trees are in bloom. They're everywhere, along roadsides, in houses, on market stalls and in people's homes. Every year, as I pass along these golden paths, I dream of photographing a pregnant woman. It was while staying a few days in the Var near Sainte-Maxime that I spotted this perfect spot between mimosas and reeds.
A nude and sunny pregnancy photo session in the mimosa
"Sur la route du Mimosa" I'd had this photo shoot in mind for a while now. The sublime M. was kind enough to follow my lead! She didn't hesitate to strip down in the middle of February to reveal her round belly, and I thank her from the bottom of my heart. Most of the mothers-to-be I meet are discreet by nature and I like to put them at ease so that I can get a few images of them naked, as close to nature as possible. Images that reveal all the power of their bodies in the process of creating life.
Images of a pregnant woman in direct sunlight
It was also a test session. I wanted to create images in full sunlight, as I'm used to sunsets and backlight pregnancy photos. I wanted to get away from the seaside and discover all that the hinterland of our beautiful region has to offer.
I wanted to be able to offer other mums-to-be sessions in the great outdoors and in the middle of the day, especially when the weather's a bit chilly. Having your bare skin warmed by the direct sun, in the middle of a forest or in an open field, is a great autumn or spring experience in the South of France.

Sweet M. and I have also experimented with a large sheet, a beaded veil, in the reeds… And I think the whole thing is coherent and poetic.
I'll let you discover this session, which is very dear to me. I hope it will inspire you to come up with more flowery sessions!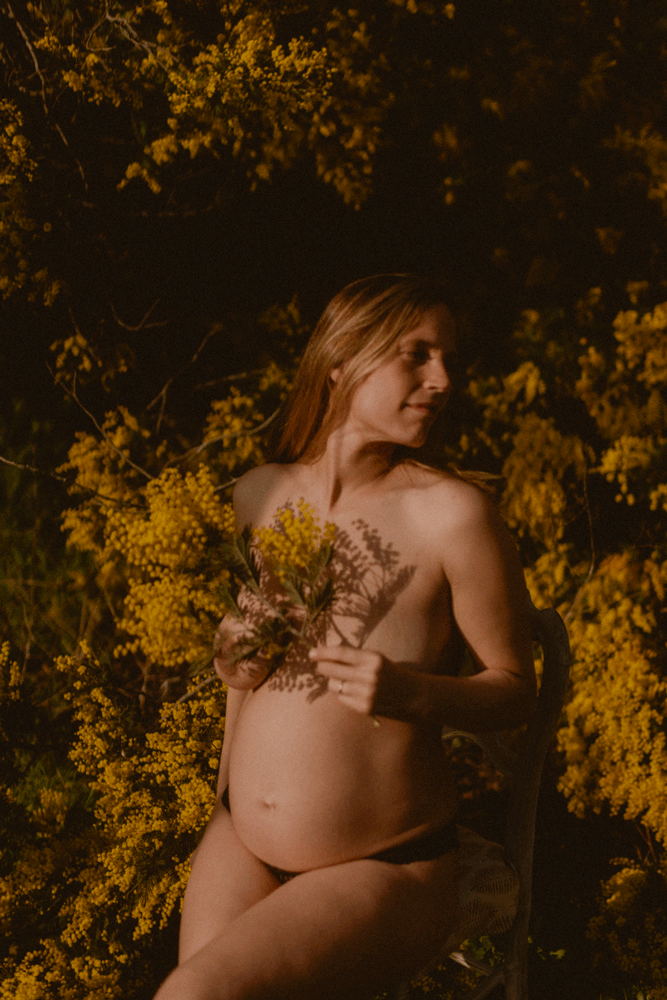 Provence pregnancy motherhood photographer