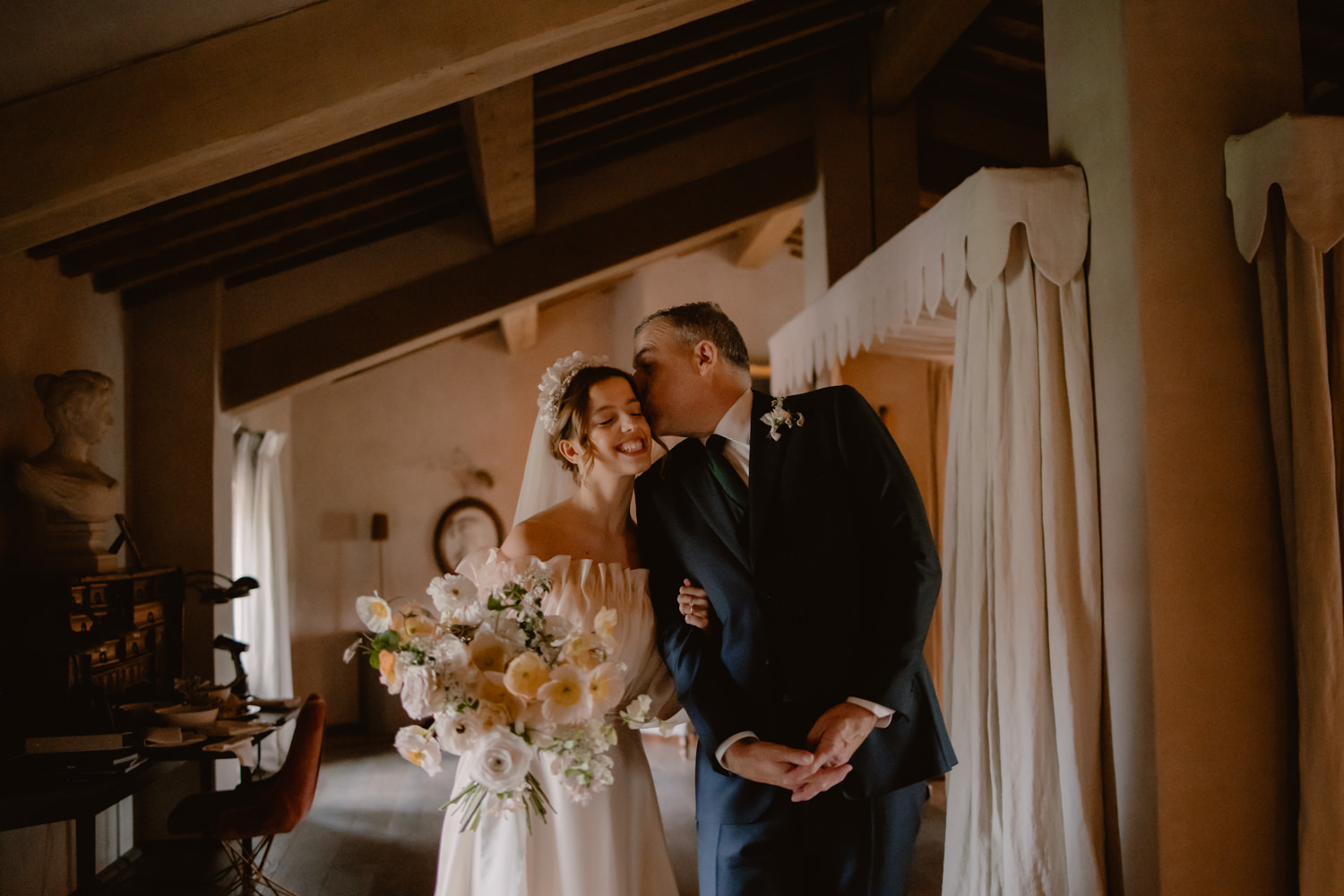 Tuscany. It was a dream. A dream to be able to go there for a wedding. When Maud contacted me last year to be their wedding photographer for her wedding at Castello Di Reschio, I literally jumped for joy! The cypress alleys, the greenery, the valleys… and then this incredible place that is Castello Di Reschio. A sort of Tuscan jewel box where everything is thought out with taste and finesse.

After several months of discussion, Instagram inspo and Pinterest sharing, I met Maud and Ray, last May under a weather apparently very Tuscan for this season, a cloudy sky and a small spring coolness. Maud is surrounded by her closest friends for her getting ready when I join her in her charming suite at the Castello. Relaxed and smiling all the time, she beams with happiness, a real ray of sunshine. Maud is the founder of a ready-to-wear brand. It is quite natural that she designed the dress of her dreams and wow, what a dress! Of a rare elegance.
Once the getting ready and the glasses of Prosecco were over, the bride and groom discovered each other with emotion during an intimate lay ceremony at the foot of the castle. The setting is magical, I feel like I'm in an Italian Renaissance painting. It was a suspended moment.
I will then accompany them to the first wild dances. In the meantime, there will be a lot of love, a few tears, divine Italian food and glasses of Prosecco galore.

Maud, Ray, thank you again for your kindness to me and your love so beautiful to look at and to photograph.

I leave you with this selection of images from this unforgettable Tuscan wedding.
Venue : Castello di Reschio / Dress : Imaginée par la mariée et réalisée par Francesca Piccini / Shoes : Jimmy Choo / Suit : Fratelli Piacenza / Accessories : Rienne Créations / Flowers : Puscina flowers / MUA: TBD / Stationnery : Paper ink co / Dj : Ed Gillum
Tuscan wedding in Reschio